Wil je je bluetooth speaker koppelen aan Google Home? Dat kan gewoon. In feite koppel je de Google Home- of Google Nest-speaker aan je bluetooth speaker, maar het resultaat is hetzelfde. Binnen een paar minuten heb je dit gefikst en geniet je van een betere audiokwaliteit.
Veelzijdige apparaten
De Google Home, Google Nest Mini, Google Nest Audio of Google Nest Hub zijn prima apparaten voor in een smarthome. Je kunt er muziek en podcasts op luisteren, je kunt ermee bellen en je kunt er, in het geval van een smart display, ook videocontent zoals films en series op bekijken.
Maar laten we wel eerlijk blijven. De audiokwaliteit is niet van het hoogste niveau. Zeker op de eerste generatie Google Home-speakers is het zo dat de geluidskwaliteit ondermaats is. Dus zou het geen gek idee zijn een andere speaker het werk over te laten nemen, toch?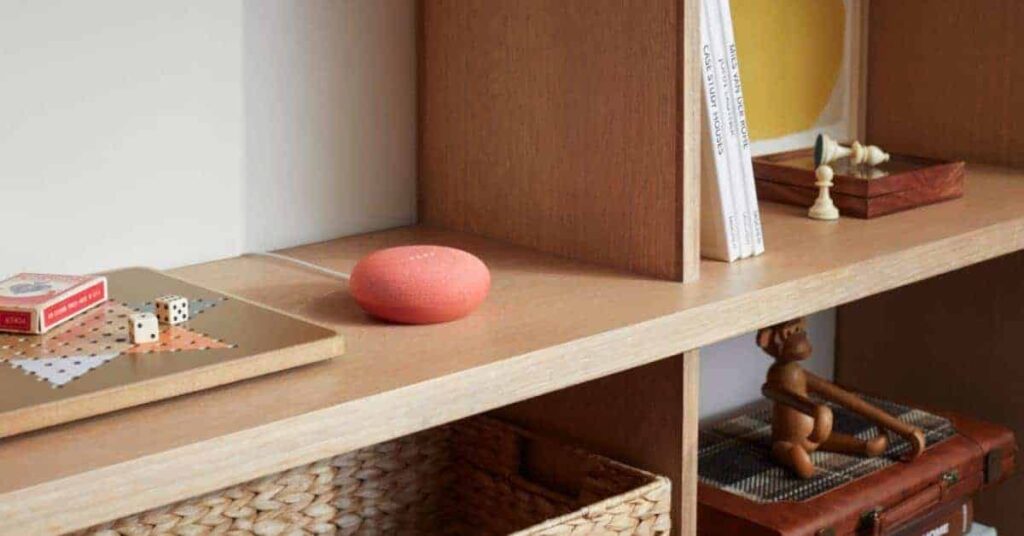 Google Home: bluetooth speaker koppelen
Je bluetooth speaker koppelen aan Google Home is gelukkig zo gebeurd. Het heeft als grote voordeel dat je je muziek en andere content in een hogere kwaliteit kunt beluisteren (of bekijken), zonder dat je daarvoor per se een compleet ander apparaat voor in huis hoeft te halen.
Dat is natuurlijk altijd nog een optie. Zo kun je investeren in een goede soundbar. En vervolgens kun je die soundbar koppelen aan Google Home via bluetooth. Maar je kunt ook gewoon een doodgewone bluetooth speaker gebruiken. Eentje die je waarschijnlijk in de kast hebt liggen.
Het maakt in elk geval niet uit met welke speaker of soundbar je dit probeert te bewerkstelligen. Het enige wat je nodig hebt is een speaker met bluetooth, één van de eerdergenoemde Google Home-speakers en een smartphone met daarop de Google Home-app (met Android of iOS).
Je kunt ook natuurlijk gewoon meteen je smartphone of laptop koppelen via bluetooth aan zo'n speaker, maar dan loop je wel een handige functionaliteit mis. De Google Home – en de daaraan gekoppelde bluetooth speaker – is namelijk volledig met je stem te bedienen.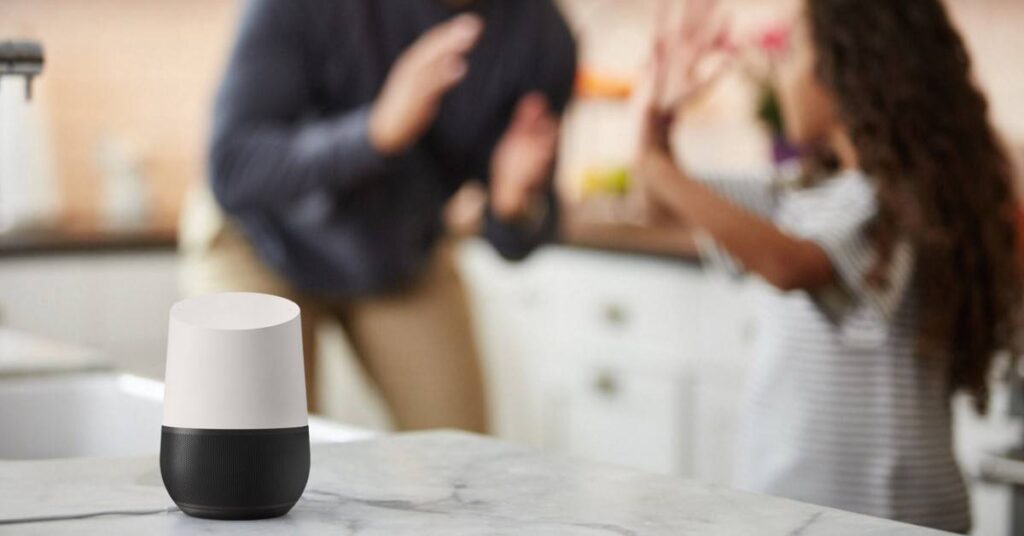 Bluetooth speaker koppelen aan Google Home
We hebben een aantal overzichtelijke stappen voor je hieronder verzameld waarmee je in een mum van tijd je bluetooth speaker koppelt aan Google Home of Google Nest. Zorg er altijd voor dat de slimme speakers voorzien zijn van de meest recente versie. Dat controleer je gemakkelijk.
Zet je bluetooth speaker aan en activeer de koppelmodus. Per bluetooth speaker verschilt hoe dat werkt, dus voor vragen kun je terecht in de handleiding van de speaker.
Pak nu je telefoon en open de Google Home-app. We gaan ervan uit dat je die al geïnstalleerd hebt, aangezien je reeds gebruikmaakt van een Google Home of Google Nest.
Scrol binnen de app naar beneden, totdat je de speaker ziet staan die je aan een bluetooth speaker wil koppelen.
Heb je de speaker gevonden? Top. Tap nu op de speaker en tap in het volgende scherm op het tandwielicoon. Daarmee bereik je de instellingen van de app.
In beeld staat nu onder andere het kopje Apparaatbeheer. Tap op Audio.
Mocht de Google Home- of Google Nest-speaker die je wil instellen ondersteuning voor deze functionaliteit aanbieden, dan zie je bovenaan de optie Standaard muziekspeaker staan. Helaas is het zo dat niet elke Google Home- of Nest-speaker een externe speaker ondersteunt.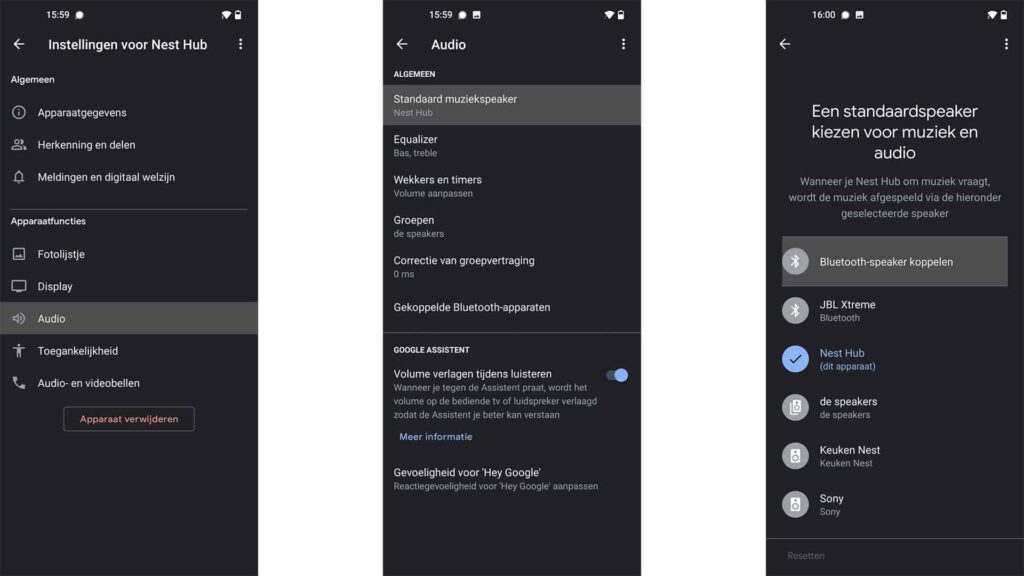 Tap op de optie Standaard muziekspeaker.
In het midden van het scherm zie je nu Bluetooth-speaker koppelen staan. Tap daarop.
(Als het goed is, is je bluetooth-speaker nog aan het zoeken naar een verbinding. Doet die dat niet meer, dan moet je de koppelingsmodus wederom activeren.)
Nu verschijnt de bluetooth-speaker in beeld die in de koppelingsmodus staat. Tap op die naam en voltooi de installatie.
Bijzonder mooie combi-deal!
De gloednieuwe Google Nest Home Hub (2de generatie) nu met gratis producten!
Dingen om rekening mee te houden
In het vervolg zal deze specifieke Google Home- of Nest-speaker audio afspelen via de gekoppelde bluetooth-speaker. Dat gebeurt dus niet meer via de speaker aan boord van de slimme speaker of het smart display. De bluetooth-speaker moet daarvoor eigenlijk wel altijd aan staan.
Houd de stekker van die speaker dus in het stopcontact en voorkom dat die de verbinding verliest. Verder kun je één bluetooth-speaker per keer gebruiken. Je kunt dus niet een stereopaar aanmaken, of iets dergelijks. Je kunt wel meerdere speakers koppelen, maar niet tegelijkertijd gebruiken, helaas.
Populaire slimme speakers